The 4th Anniversary Cruise Celebration has begun! The Secretary would like to introduce the events that will take place during the event!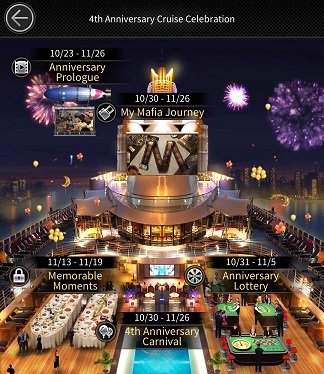 【My Mafia Journey】
Event Time: October 30th – November 26th (City Time)
Tap on the screen icon at the top of the Cruise ship to view your exclusive "My Mafia Journey" content. After viewing your Mafia Journey, you will be able to select Name Tag for yourself. Share your Mafia Journey and get more Rewards!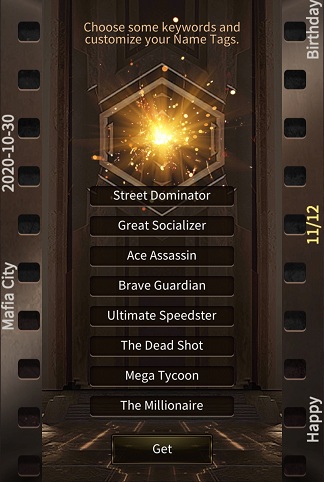 【Anniversary Lottery】
Event Time: October 31st – November 5th (City Time)
The Anniversary Lottery is about to begin. Try your luck and draw awesome Rewards daily. Additionally, Leaders have the opportunity to get exclusive Anniversary Cruise Celebration Rewards. Don't miss out!

【4th Anniversary Carnival】
Event Time: October 30th – November 26th (City Time)
Head to the Event Center – 4th Anniversary Cruise Celebration for more details.
During the event, obtain [Mafia Bourbon] by completing Daily Tasks
Visit Anniversary Bars (50 Wine a day)
Gather Resource (20 Wine a day)
Defeat Street Forces (20 Wine a day)
Black Market Trades (10 Wine a day)

R4 and R5 Members can hold a Banquet to get [4th Anniversary Cards].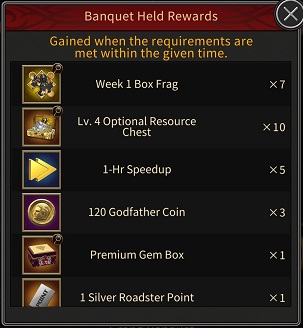 Furthermore, head to the [Mafia Cards Collection] event to add the cards to your Card Box to complete collection and get awesome Rewards!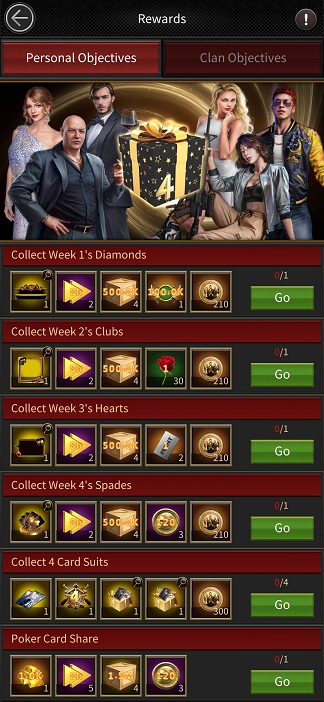 [Secretary's Reminder]
1. Each Clan will be able to hold up to 3 Banquet a Day.
2. To successfully hold a Banquet, Leaders need to meet all requirements.
3. Players that change to another clan or join a clan during the event will be unable to get any [Banquet Held Rewards] for that day.
4. Although preparation for a Banquet can be initiated during the last 2 hours of the event, that Banquet will not come with any 'Banquet Held Rewards' even it is successful.
Have Fun Gaming!
Mafia City Studio